9 Key details to having the perfect Boudoir Session.
Choose the right photographer
Now ladies, choosing the right photographer is very important. The right photographer will help you gain confidence in yourself and create a comfortable atmosphere when taking those sexy photos. Please research, look up reviews, cross check social media and speak to others who worked with the photographer. The reason for this is because there are many creeps out there taking advantage of beautiful women like you.
Although a photographer may say they know what they're doing, doesn't mean it's always true. They may charge you with a bigger price range than what the photo and work is actually worth. In addition, If it sounds too good to be true, it is. Don't go cheap on the Boudoir photographer because you get what you pay for. Search up their work before booking a session as well as making sure that the work actually belongs to them instead of it being stolen. Book and pay those whom will give you the experience you are hoping for and will provide you the style that you originally loved. Schedule a chat with them on the phone to see how you connect and feel out his/her vibe. A photographer who is talented, professional, skilled, and trustworthy is the one you are looking for.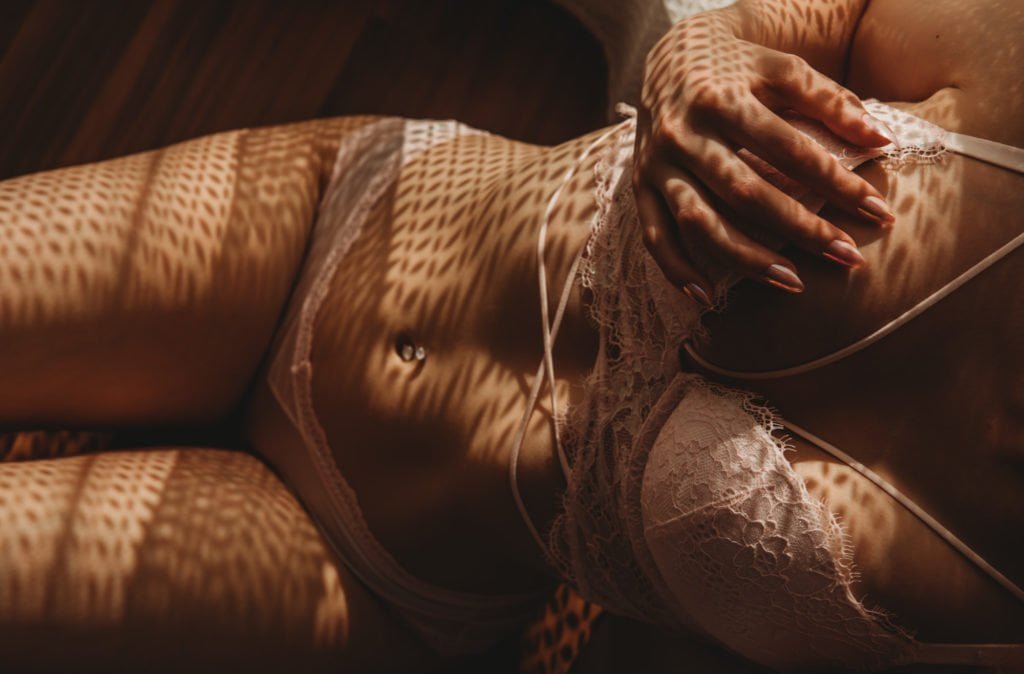 Bring someone with you
CREEP ALERT! It is best to bring a trusted person with you just in case you ever get into a situation where someone isn't making you feel comfortable. I hate to say it but there are major creeps in the industry and you need to make sure you are safe at all times.

RED FLAGS!! Be vigilant for the red flags: photographer has been drinking, unprofessional studio, starts coming on to you or touches you inappropriately or asking you to do graphic and vulgar poses and actions. Very important, if your photographer says he/she doesn't like when there is someone else around because body guards/company distracts him/her then it's a big BS. Bringing a girlfriend, roommate or even your mom(I've seen it happen) is a great way to stay safe. No worries, you have nothing to fear because now you know what to look out for and to bring your bestie.
Book your session after your Monthlies
I know, I know…. girls let's avoid having cramps, being bloated, and having crabby moments during your session. I would hate for you to come in for your photo shoot and be in the worst mood. Let's aim to schedule your shoot after your monthly so you can be photographed as the true goddess you are, not an uncomfortable, bloated potato.
Get your beauty sleep
Beauty sleep is everything! You shouldn't be stressing the night before your shoot. It's just going to ruin your sleep and make you cranky and exhausted the next morning. Not enough sleep worsens existing skin conditions and creates bags under the eyes. When waking up the day of your shoot after your beauty sleep, you will feel more energized and more confident than what you would feel with little to no sleep. Get those zzzzz's!
Enter the studio with comfy clothing
Now, this is something great to know so you can avoid waiting. Arrive at your session with no bra or once you're there, "take it off." Bras, tight pants or clothing will create impression on your skin and your photographer will have to wait or will need to work twice as hard to remove them.

This small tip will help lowering the cost of the photos because the photographer won't need to edit the skin marks left from your bra. Funny fact, who doesn't like taking off their bra and letting them run wild?

BONUS TIP: If your doing two out fits and one is a corset. Do the first look (lingerie, nude, lace, sweater) then the corset. The corset will leave impression on your skin and best to save for the 2nd look and avoid the delay.
Makeup and Hair
You better believe hair and make up is crucial! Look, you're getting professional photos, bought a cute outfit, got your beauty sleep and even dragged your kind and too curious girl friend as your cheerleader for your "Victoria's Secret" moment. Why wouldn't you get your hair and make up done? I know you can do it yourself but girl, pamper yourself!!

If this is for him or even yourself, be stress free and get all dolled up like you deserve it and honestly nothing beats a real professional make up artist and hair stylist glam you up for your boudoir shoot. No one wants to look back and regret make-up not blending properly or crumbling mascara.
Ideal outfit(s)
No two queens are the same! You need to familiarize yourself with your body and how to dress for it. You might have petite, athletic, curvy body or maybe your voluptuous dame who can't be tamed. Either way, go with an outfit that compliments your figure and doesn't create unwanted rolls or wrongfully highlighted parts of your body. Communicate with your photographer and get their feedback. They will suggest what works for your body and theme.

Remember, you don't have to have to go with the lingerie. Think outside the box and get creative. Go with his button up shirt, big sweater, leather jacket, robe, his favorite jersey, his work uniform, one piece suite or go nude! What ever you pick I guarantee you, it will leave him speechless!
Stop worrying about the extra pounds
Honestly, please don't stress yourself over those extra 10 or 15 pounds that you promised yourself you were planning to lose before your session. All professional photographers know exactly how to pose you and light you to flatter your perfect individual body type.

I can not stress this enough, you are beautiful and I know no words can overcome your perception but a good skilled boudoir photographer can light, pose and frame you like an international model. Trust me I speak from experience. Do it ladies!
Get passed the butterflies
I'm a mother of five…. YES, five! So no one understands more than the mom who's had many pregnancies and is stigmatized to stay in my lane. When I did my shoot I felt beautiful, gorgeous, sexy and confident in my own skin. I LOVED IT! I truly did! No woman should feel any less than they truly are.

My husband alway tells me how much he loves me and wants me. To him it doesn't matter if I have bad hair, no make up, sweat pants or that I'm in my birthday suite. The look on his face when he saw my boudoir shoot was priceless. It reminded him of how smoking hot this mama is!

Now is your time to get dolled up, throw on that sexy lingerie, lace up those stilettos and remind yourself you are beautiful! You're more than a mom, more than his wife, the girl from the office or what the society claims you to be. YOU ARE SEXY, CONFIDENT AND POWERFUL!

Author: Katarzyna Amador | ME ^^^
Editor: Yuma M Amador | Oliva Janusz