5 reasons why a boudoir session makes a great gift for him!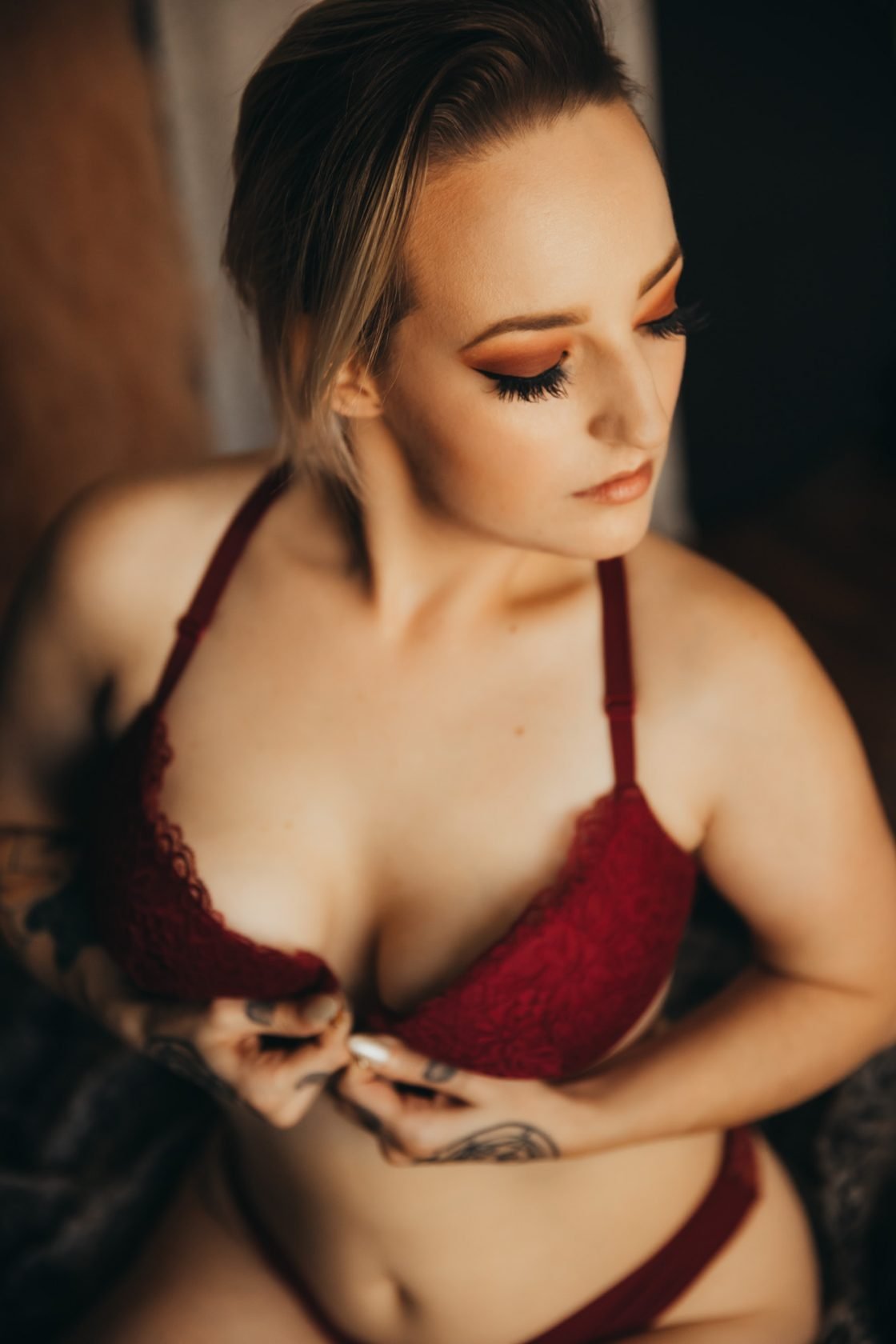 1. His reaction
It's your Anniversary and you're sitting in an upscale restaurant in the city. He has your gift (I'm sure it's something nice because you deserve the world) but wait, you have his gift! You bring out a black leatherette box with silk ribbon on it, got his attention. Now he is more excited to hand you your gift so he could put his hands on the gift you are about to hand it him.

Up to this moment he has no idea all the work you put into hiding this from him. Booking a photographer a month in advance, counting calories, few extra days in the gym, buying a new lingerie, getting your hair and make up done, ordering the album and then keeping it from him till now.

He's about to open it. The silk ribbon comes off, he is opening the black box! You're excited! The look on his face when he open the album and sees you in a sexy little tight risqué outfit in an "OMG" pose. "Wow! Baby, wow!" he shouts in the middle of the crowded restaurant. At this moment he already forgot all about his steak! He wants to sink his teeth into you and not his food. He'll remember this year's present for years to come.

2. Spice things up
Same old, same old! It's Tuesday night and you know the routine. Kids are wiped out from practice and went to sleep early. "Sure, Netflix sounds great honey! The office! You read my mind!" 15 minuets in and here it comes, the move he's been doing since high school…. "Alright! Lock the door! Make it quick….."

Ladies, you're young! You're beautiful! Let him know who MAMA is! Take control of what he finds sexy! Be the woman he craves, the woman he always wanted. A boudoir session can help reignite a new spark between you both. Your sexy photos will scream, "I am beautiful, I am sexy, I am yours."
3. Pamper yourself
Ladies, let's be honest… we take care of the kids, tend to the house, cook, pay bills, work and have to deal with all of them! Let's take the opportunity to treat ourselves! Why not? Sure the boudoir gift is for him, but we need new lingeries. Shopping! Let's get those nails done and get a pedi while we're at it!

I don't know about you but mama doesn't mind sitting in a make up chair getting all dolled up by a professional make up artist & stylist sipping on a mimosa as I'm about to get ready for my big boudoir shoot! Make the most of it! Just like your friends from work who said they did one, "it's fun and exciting!"
Let's take the opportunity to treat ourselves!
4. Feel empowered
Ok, I know you are reading this and this is a hard point to make across a blog post you came across during your google search but please remember, you are beautiful! You're more than a mother! You're more than a wife! You're more than what the world boxes or labels you! Break those chains! Be the sexy, strong woman you are! Boudoir session captures gorgeous photos of you to remember! Stop pushing it off and take back how you feel about yourself! Confidence is sexy and men love confident women!!!
"Boudoir session captures gorgeous photos of you to remember"
5. Remind him
We get to a point in a relationship were he sees you in a messy bun, cover in Cheerios, eye brows are not done, lazy yoga pants and "you still remember to put on deodorant, right?" He is probably busy too and doesn't remember or doesn't think about how he met you in the beginning when you were flirty, sexy and playful. Now you feel like you're "just a mom" and that you have to "get the milk" but also don't forget to "go to the bank before they close."

Remind him of what he has, of how sexy you are, of how other men see you as you walk by, of how crazy it would drive him if one man came up to you and said "Hi, name is James and I couldn't help myself but to say hello." Ladies, your boudoir session will reignite that blow out fire and he will remember the goddess he fell in love with! Your sexy stunning photos in lingeries that he's never seen you in before, which instantly he would need to see and experience live in person. It will drive him crazy with passion! Isn't that our job ladies, to drive our men crazy?

Just because I said all those points towards the men and their needs, I feel like I have to say something towards us womenn and our needs. We already do sooooo freaking much and reading this blog kinda feels like another of "our responsibilities." Why do we have to remind him? Why do we have to go extra miles to make him happy? We don't have to ladies! As much as you think it's for him, it really is just for you. I myself forget who I really am and what I need. I catch myself getting excited to go groceries shopping BY MYSELF like it was a vacation or me time. The real me time should be just me and all about ME. Getting MY nails done, shopping for MY lingerie and for finally getting MY professional Hair and Make Up Artist before MY photo session. Getting MY photos printed in leatherette album for MY husband!!!

Remember one thing, we are so strong that despite everything, we can bring the sexy back. It's us that control the universe that includes our house and master bedroom (wink, wink).



Muah ladies!
"Always remember how beautiful you are" – Boudoir by Naniu Studio